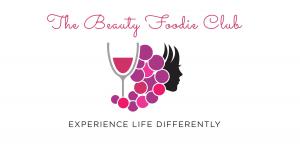 www.TheBeautyFoodie.Club, We Love Helping Men Who Celebrate Women Fund Gift Beauty Foodie Trips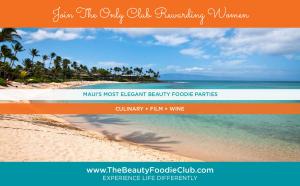 Men, Women Love to Party in Maui…Join The Club to Gift Them Our Fun Beauty Foodie Trips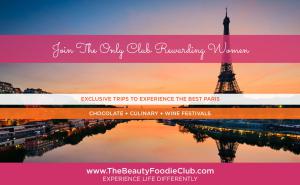 Men want to hit it out of the ballpark…Join The Club…We're helping fund gift 100 foodie trips to Paris
The Beauty Foodie Club will help men in L.A. who celebrate women fund gift Fun Beauty Foodie Trips to honor awesome moms, girlfriends, wives and daughters too.
We love helping men celebrate women, Join The Club to gift them a Beauty Foodie Trip and change their life."
— Carlos Cymerman, Fun Advocate+Founder, The Beauty Foodie Club
SANTA MONICA, CA, UNITED STATES, October 26, 2018 /EINPresswire.com/ — Santa Monica based staffing agency, Recruiting for Good, is sponsoring The Beauty Foodie Club, a social club for women who live in Los Angeles; that welcomes men who celebrate women. We help men fund gift that special someone exclusive Beauty Foodie Trips.
According to The Beauty Foodie Club, Founder Carlos Cymerman, "We love helping men celebrate, honor, and cherish the women in their life. Join us to surprise her. 'Don't tell her how much you love her….show her.' Our fun Beauty Foodie Trips are the perfect gift for every occasion."
How Men Participate in The Beauty Foodie Club
Email Carlos@TheBeautyFoodie.Club to arrange for a time to meet for coffee, and see who you like to gift a Beauty Foodie trip. Recruiting for Good rewards referrals with fun Beauty Foodie Trips.
Carlos Cymerman adds, "Men, are you in the 'Dog House?' or 'Want to Earn Future Brownie Points?' Then, join The Beauty Foodie Club to gift the ones you love, fun Beauty Foodie Trips to Maui or Paris…and who knows she might even take you along."
About
The Beauty Foodie Club is a Santa Monica Based Social Club Celebrating and Rewarding Women Who Make a Difference; by helping members fund fun fulfilling life experiences to share with family and friends. Our invite only Club is for women who live in L.A.; to join come to our next Beauty Foodie Party in Santa Monica. www.TheBeautyFoodie.Club
Recruiting for Good is a socially progressive staffing company in Santa Monica, finding talented professionals great jobs, since 1998. Companies retain us to find the best talent in Accounting, Finance, Engineering/IT, Marketing, and Sales professionals. We reward referrals with fun life experiences. We sponsor www.OurMomsWork.org. and the Fun Social Club Celebrating Women www.TheBeautyFoodie.Club
Our Moms Work is a Santa Monica based community service sponsored by Recruiting for Good; offering cost free personal career mentoring services. In 2019, coming out with funded services to offset the cost of running a business for mom entrepreneurs and business owners. Our fun mission…"When we love life…the party never ends." www.OurMomsWork.org
Carlos Cymerman
The Beauty Foodie Club
+1 310-720-8324
email us here
Visit us on social media:
Twitter
LinkedIn

Source: EIN Presswire