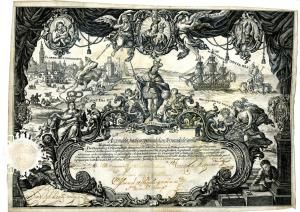 Seville, Spain. 1740's, 1 Share Stock Certificate, Spectacular engraved view of the city of Seville, the Virgin Mary with Christ Child, top center, St. Fernando III below, a sailing ship aided by Neptune, right. King Fernando VI at the center.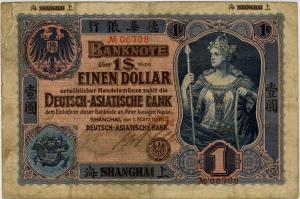 Shanghai, China, 1907, $1, P-S283a, S/M#T101-1c, Issued banknote, Blue on light red and black, Germania at right, S/M 06708, PMG graded Choice Fine 15 NET with note of repaired with top left missing corner piece re-added. Rare note in any condition. G&D.
Washington, D.C., 1875 $10-$20, Uncut pair, Red seal, S/N 7610 – K554168, pp C-A, PCGS graded Very Fine 30 with comments of minor restorations, First time we have seen an uncut pair of 2 different denominations of the 1875 Series.
The auction includes over 1150 Lots of Banknotes, Scripophily, Ephemera & Autographs held over 2 days on Dec.3rd & 4th in NYC & their offices in Fort Lee, NJ
We look forward to celebrating our 50th Milestone Auction with another exciting sale. The worldwide banknote market has been exceptionally strong this year with record prices being set every auction"
— Dr. Robert Schwartz, President of Archives International Auctions
FORT LEE, NEW JERSEY, UNITED STATES, November 24, 2018 /EINPresswire.com/ — Archives International Auctions' "50th Milestone Auction" scheduled for Monday and Tuesday December 3rd & 4th, 2018, consists of over 1150 lots of rare and desirable U.S. and World Banknotes, Scripophily, U.S. Presidential Autographs and Historic Ephemera. Featured will be an extensive collection of Chinese banknote rarities; further selections from the John E. Herzog collection of rare U.S. & World Scripophily; rare Security Printing Ephemera; and hundreds of desirable banknotes, bonds, shares and historic ephemera.
"We look forward to celebrating our 50th Milestone Auction with another exciting sale. The worldwide banknote market has been exceptionally strong this year with record prices being set every auction." said Dr. Robert Schwartz, President of Archives International Auctions. "Our upcoming auction caters to every level of collector and dealer with another exciting offering that includes hundreds of worldwide banknotes, bonds, shares. autographs and historic ephemera."
The first and second sessions scheduled on December 3rd to take place at the Collectors Club in New York City begins with U.S. & Worldwide Bonds & Shares including highlights from the John E. Herzog Collection of major scripophily rarities such as the impressive Spanish, 1740's, Real Compania de San Fernando de Seville Share Certificate; 2 different 1917, Dominion of Canada War Loan Specimen bonds, as well as many 18th and 19th century rarities. Modern Scripophily is represented by numerous scripophily classics such as Apple Computer, Amazon.com and Berkshire Hathaway Specimens. Additional historic Highlights include a 1778 Danish West Indies Bond; a Michigan, 1845, Mackinac and Lake Superior Copper Co. Stock Certificate and hundreds of additional desirable Bonds and shares emphasizing railroads, mining and modern bonds and shares offered over the 2-day auction.
Security Printing Ephemera is highlighted by a spectacular 1866 British American Bank Note Company, Engravers & Printers, Proof Advertising Sheet Rarity, dozens of spectacular early advertising notes from ABN, BW&C as well a pioneer polymer Tyvek and DuraNote banknote rarities and numerous other desirable items. We are also privileged to offer a historic group of Presidential signed documents including an Abraham Lincoln signed Military Appointment of N. J. Sappington, later assigned to Elmira Prison to feed captured Confederates, as Commissary of Subsistence of Volunteers; 2 different James Madison signed documents and numerous other Presidential signed documents and appointments from an old estate collection that has been off the market for over 30 years. Autographed certificates by Edison, Daniel Drew and other notables are included in this outstanding offering.
U.S. banknote highlights begin with impressive obsolete banknotes including a dramatic 1850-60s Continental Bank $3 Obsolete with the well-known Polar Bear attacking men in boat image as well as dozens of rare and attractive obsoletes, both issued and proofs; National banknotes are highlighted by an extremely rare Uncut Pair of 1875, $10-$20, Charter #2382, The Central National Bank of Washington City, with this being the only known uncut pair of notes from this bank; an Alaska, First National Bank of Fairbanks, 1902, $5, Plain Back rarity; a German National Bank of Memphis, 1866 Proof $5 Banknote Rarity; an Oilfields National Bank in Brea, CA, $5 Ty.2 note graded CU 64; a First National Bank in Reno, $5 Uncut Sheet of 6 notes, Ch#7038; a Nevada, 1929, First National Bank of Lovelock, Nevada, $10, T1, Ch#7654 rarity, and dozens of other outstanding U.S. Obsolete, Type and National notes from various collections and estates.
Foreign Banknotes include many desirable rarities such as an Australia, 1941, Camp Seven Bank Hay Internment Camp 2 Shillings note; a 1937 Bank of Canada, $100 Specimen graded PCGS 66 OPQ; a Chile, 1878-79 Banco Nacional de Chile Specimen Banknote Quartet, all extremely rare notes; a DWI, 1905 Proof $100 National Bank of the Danish West Indies rarity; an amazing Irish Republic, 1866 Issued Uncut Sheet of 3 $5 Notes; and a Puerto Rico, 1894 Banco Espanol De Puerto Rico 5 Pesos Specimen Rarity as well as dozens of additional rare and desirable notes.
We are ending the first day with a significant offering 128 lots of rare China and Hong Kong Banknotes and Chinese Scripophily highlighted by a Hong Kong, Mercantile Bank of India, 1941, $5, Banknote Rarity; a Sin Chun Bank of China, 1908, $10 high grade Private Banknote; a 1920, 10 Tael Specimen Commercial Bank of China Rarity and dozens of other rare and desirable Chinese banknotes. The Second day, December 4th, features 682 lots of rare and desirable banknotes, coins, and scripophily in every price range, from the beginner to the advanced collector. It is highlighted by over 430 lots of rare and desirable bonds and shares highlighting railroads, finance, mining, foreign and historic scripophily.
Previews will be held at Archives International Auctions offices Wednesday to Friday, November 28th to 30th from 10:00 AM to 5:00 PM and by appointment and on Monday, December 3rd at the Collectors Club located at 22 East 35th Street in New York City beginning at 9:30 am until 2:00 pm EST. For an appointment call 201-944-4800 or email info@archivesinternational.com. The Online catalog for the December 3rd and 4th sale is on Archives International Auctions' website and can be viewed via the ArchivesLive bidding platform. It can also be viewed as a virtual catalog or downloadable .pdf on their website. To pre-register for live internet bidding, log on to the Archives International Auctions website, at www.ArchivesInternational.com.
Archives International Auctions is currently seeking quality consignments for their 2019 Winter and Spring auctions and is looking for U.S. and worldwide banknotes, coins, stocks, bonds, stamps, postal history, historic ephemera, autographs, and documents to buy outright. To sell or consign one piece or an entire collection, please call AIA at (201) 944-4800; or e-mail them at info@archivesinternational.com. You can also view AIA's weekly eBay offerings at their eBay ID ArchivesOnline.
You may also write to Archives International Auctions, at 1580 Lemoine Ave., Suite #7, Fort Lee, NJ 07024 U.S.A. To learn more about Archives International Auctions and the auctions planned for 2019, log on to www.ArchivesInternational.com.
Dr. Robert Schwartz
Archives International Auctions LLC
+1 917-697-0060
email us here
Visit us on social media:
Facebook
Twitter
Archives International Auctions Celebrates Their 50th "Milestone" Banknote & Scripophily Auction Dec. 3rd & 4th, 2018 – Auction Highlights

Source: EIN Presswire